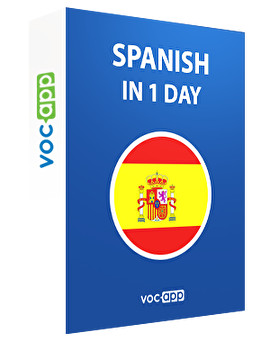 Spanish in 1 day
Learn basic Spanish without effort
Learn the basics of the Spanish vocabulary
Start reacting like a native speaker!
Get to know the language of Shakira, Pablo Picasso and Gabriel García Márquez
Our recordings will help you master Spanish pronunciation
Zapisz się za darmo
Ten kurs jest w 100% bezpłatny. Dajemy Ci go, żebyś mógł sam się przekonać jak skutecznie i przyjemnie można się z nami uczyć:)
10 words in 10 seconds - 10 palabras en 10 segundos




10 fiszek

You already know that:) - Lo que ya conoces:)




11 fiszek

Questions - Preguntas




13 fiszek

Polite expressions - Expresiones de cortesía




19 fiszek

People - Personas




32 fiszki

To be, to have, to go - Ser/estar, tener, ir




14 fiszek

Activities - Acciones




32 fiszki

Untranslatable - Intraducible




9 fiszek
Why is it important to learn Spanish?
Did you know that Spanish is the second most spoken language in the world? Spanish is the official language of 22 countries, the second most important diplomatic language and the third most used language on the Internet. In addition, major world organizations such as the UN, UNESCO and MERCOSUR have adopted Spanish as one of the official languages. Spanish is known to be one of the fastest languages in the world . The Spanish language is in full growth. Spanish is one of the most used language in the business world, as such, Latin America is becoming a region of vital business importance. Speaking Spanish helps to deepen the knowledge of Latin culture by promoting a deeper understanding of its culture and history. Several works of the modern era were created by artists of Spanish origin , such as Miguel Cervantes' famous book Don Quijote, Mexican films Guillerme del Toro and Spanish director Pedro Almodôvar. There are a multitude of untranslated books, events or specialized websites that have Spanish as their official language and can only be enjoyed in their entirety with the knowledge of the language.
How to learn Spanish?
With this course, Spanish in 1 day , you will be able to learn Spanish by yourself . You can manage your time and learn Spanish at your own pace. With the help of flashcards it will be easier to memorize and learn to speak Spanish . This course is a way to learn Spanish in a fun way. You will have access to varied Spanish vocabulary , you will be able to learn the most used Spanish words , basic Spanish words and Spanish phrases . With this learn spanish app , you will not lack reasons to learn Spanish in a practical and intuitive way. Learn Spanish may seem an impossible task, but thanks to our memorization system, it is easier to memorize Spanish phrases , Spanish words , thanks the selection that Vocapp's team made of the most used Spanish words .
Improve your vocabulary with our courses: Spanish Verb Phrases and Spanish Words: Top 500 Verbs
---